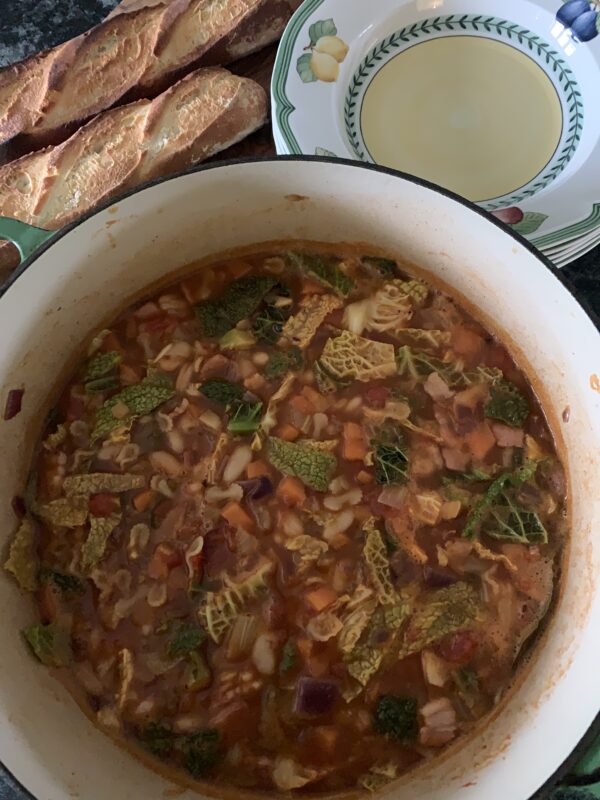 | | |
| --- | --- |
| | |
Put a large shallow casserole pan on a medium-high heat.

Heat the olive oil and sprinkle the bacon into the pan and cook until golden brown.

Add the onion, carrot, celery and fennel and cook gently. Remove and finely chop any tough stalks from your greens and add to the pan. Reserve the shredded leaves. Cook for 10 to 15 minutes, stirring regularly, or until softened and caramelised.

Add the green beans, the shredded greens, the garlic and bay leaves, season with salt and pepper and continue to cook gently for 10 minutes.

Pour in the tinned tomatoes, breaking them up with your spoon, then rinse the tin with water and add to the pan.

Pour in the drained beans and top up with 600ml of vegetable stock or boiling kettle water, then add the pasta. Cover and leave to simmer for 10 -12 minutes, or until the pasta is just cooked and the soup has thickened to your liking.

Season the soup to your liking, then serve it with a dollop of pesto or a grating of Parmesan cheese and a drizzle of extra virgin olive oil.
TOP TIPS
The soup can be prepared in advance up to point 6 but don't add the pasts. Leave to infuse the flavours which will improve if prepared in advance. To reheat bring to a simmer and add the pasta and continue as above.  You can make it vegetarian by taking out the bacon and using veggie stock or water.
You can use up odds and ends from dired pasta packets. If they are all different shapes put them in a tea towel and bash them with a rolling pin to make them the same sort of size.
You can do all sorts of swaps here – swap the bay for chopped rosemary or thyme. Use other veggies like leek or courgette or see what is in season and swap things in and out. Use any stock you have to hand – fresh stock is great but a humble stock cube will do just fine.
If you have no pasta use rice instead, arborio works well or long grain. If you want it carb free just leave the pasta out. All great alternatives.