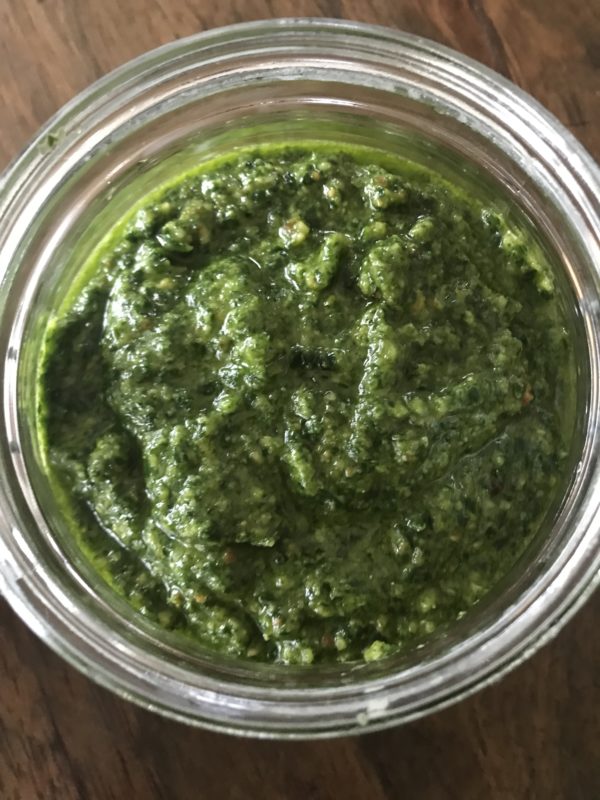 | | |
| --- | --- |
| | |
Thoroughly wash your wild garlic and place in a food processor, blitz until fairly well broken up.

Next add your Parmesan and process further, this will help to break down the garlic leaves.

Finally add your pine nuts. When the nuts are added you will want to have your olive oil to hand; turn the machine back on, and add olive oil to your desired consistency.

Add salt, pepper and lemon juice to taste.
OTHER WILD GARLIC IDEAS
PESTO: This pesto is delicious thrown through pasta, swirled through soups and stews or served as a condiment to baked potatoes or a perfectly roast chicken.  Try using it as a salad dressing or popping a few dabs into your favourite sandwich. It will keep for at least a week in the fridge.  Feel free to replace the pine nuts with any nut of your choosing, likewise any salty hard cheese can work too.
SOUP: Better still, you can create a lovely spring soup from the leaves.  Fry an onion in butter until soft and add a finely cubed potato and a bay leaf.   After another five minutes frying, add 500ml of vegetable stock and simmer until the potato is soft –about 10 minutes.   Add a big bunch of washed wild garlic and cook briefly – no more than a couple of minutes.  Remove the bay leaf, blend the soup, add seasoning and you will have a bowl of spring green goodness.
EGGS: Eggs are also a natural bedfellow for wild garlic - add into an omelette or frittata or woven into a plate of buttery scrambled eggs.
ADD CHOPPED WILD GARLIC: Add it to a spring risotto at the end of cooking to add colour and a hint of garlic.  Serve chopped wild garlic leaves with hot new potatoes and asparagus alongside a roast chicken or spring lamb.  Add chopped leaves to mayo and salad dressing.
CRUSTS & STUFFINGS: Add chopped leaves to white breadcrumbs with lemon zest, salt and pepper and top salmon fillets or lamb chops for a zesty topping.  Add to pork mince for stuffing mixtures.